The resumption of the public celebration of Holy Mass at our parish.
Next week 5 July, it is our intention to resume the public celebration of Holy Mass at 8.30 and 10.30am. Obviously, there are 'unknowns' but what can be envisaged will have been. It is case of trying it and adjusting accordingly. For the time being, the recorded Masses, which have been appreciated by many, will continue to be available, but from next Sunday, allowing for Mass to be offered at 8.30 and 10.30, this recording will be available from 10.30 each Sunday.
Since social-distancing will apply and in order to maximise the capacity of the church, we will be implementing the 1 metre + government guidance, we will be able to use every other bench in the church, whether they be filled by households or by limited numbers of individuals.
To facilitate good order and the correct use of the benches, it will be necessary for people to arrive for Mass at least 10 minutes early, observing appropriate social distancing in the grounds as well as in church.
Stewards will be responsible for directing where people are to be seated and to indicate when the church is full to capacity.
Face coverings are expected to be worn in these proximities at all times unless health conditions apply. Face coverings, while removed to receive Holy Communion, will need to be put back on immediately afterwards.
Volunteers, at their own discretion, are need to act in the technical sense as stewards and cleaners. Our ability to offer public Masses depends on our having volunteers. Without them, the church has to close. Please let Fr Paul know, using the parish email or answerphone, if you are available to help so that you can have Mass.

A Message from the Metropolitan Archbishops of the Catholic Church in England
Dear Brothers and sisters in Christ,
Grace to you and peace from God our Father and the Lord Jesus Christ.
On Tuesday we heard the announcement that, from the 4th July this year, places of worship will be able to reopen for prayer and services. We welcome this news with great joy. Since the lockdown began, members of all faiths have faced restrictions on how they have been able to celebrate important religious festivals. Our own experience of Easter was unlike any other we have known. Now, in our churches, and with our people, we can look forward again to celebrating the central mysteries of our faith in the Holy Eucharist.
The recent reopening of our churches for individual private prayer was an important milestone on our journey towards resuming communal worship. Our churches that have opened have put in place all the measures needed to ensure the risks of virus transmission are minimised. This includes effective hand sanitisation, social distancing, and cleaning. We remain committed to making sure these systems of hygiene and infection control meet Government and public health standards.
We want to thank everyone within the Catholic community for sustaining the life of faith in such creative ways, not least in the family home. We thank our priests for celebrating Mass faithfully for their people, and for the innovative ways in which they have enabled participation through live-streaming and other means. We are grateful for the pastoral care shown by our clergy to those for whom this time of lockdown has been especially difficult, and, in particular, towards those who have been bereaved. We recognise too the chaplaincy services that have played a vital role in supporting those most in need. Gaining from the experience of all that we have
been through, and bringing those lessons into the future, we must now look forward.
With the easing of restrictions on worship with congregations, we tread carefully along the path that lies ahead. Our lives have been changed by the experience of the pandemic and it is clear that we cannot simply return to how things were before lockdown. We remain centred on the Lord Jesus and His command at the Last Supper to "do this in memory of me." We must now rebuild what it means to be Eucharistic communities, holding fast to all that we hold dear, while at the same time exploring creative ways to meet changed circumstances.
It is important to reaffirm that, at present, the obligation to attend Sunday Mass remains suspended. A significant number of churches may remain closed as they are unable to meet the requirements for opening for individual prayer. Fulfilling these requirements is a precondition for any church opening after the 4th July for the celebration of Mass with a congregation.
Please be aware that there will be a limit on the number of people who can attend Mass in our churches. This will determined locally in accordance with social distancing requirements. We therefore need to reflect carefully on how and when we might be able to attend Mass. We cannot return immediately to our customary practices. This next step is not, in any sense, a moment when we are going 'back to normal.'
We ask every Catholic to think carefully about how and when they will return to Mass. Our priests may need to consider whether it is possible to celebrate additional Masses at the weekends. Given there is no Sunday obligation, we ask you to consider the possibility of attending Mass on a weekday. This will ease the pressure of numbers for Sunday celebrations and allow a gradual return to the Eucharist for more people.
Moving forward, there will still be many people who cannot attend Mass in person. We therefore ask parishes, wherever possible, to continue live-streaming Sunday Mass, both for those who remain shielding and vulnerable, and also for those unable to leave home because of advanced age or illness.
When we return to Mass there will some differences in how the celebration takes place. For the time being, there will be no congregational singing and Mass will be shorter than usual. None of this detracts from the centrality of our encounter with the Risen Christ in the Eucharist. We ask everyone to respect and follow the guidance that will be issued and the instructions in each church.
"As I have loved you," said the Lord Jesus, "so you must love each other." (Jn 13:34) The lockdown has brought forth remarkable acts of charity, of loving kindness, from Catholics across our communities as they have cared for the needy and vulnerable. We have seen love in action through charitable works, and through the service of many front-line keyworkers who are members of our Church. Now we can begin to return to the source of that charity, Christ himself, present for us sacramentally, body, blood, soul and divinity, in Holy Communion. As we prepare to gather again to worship, let us, respectful of each other, come together in thanksgiving to God for
the immense gift of the Holy Eucharist.
Yours devotedly in Christ
✠ Vincent Cardinal Nichols, Archbishop of Westminster
✠ Malcolm McMahon OP, Archbishop of Liverpool
✠ Bernard Longley, Archbishop of Birmingham
✠ John Wilson, Archbishop of Southwark
This letter is addressed to the Catholic Community in England; the opening of the Catholic Churches in Wales
is devolved to the Welsh Assembly who are still evaluating their position on opening Places of Worship.
A PDF version of this letter is available by clicking Here
Reopening of church for private prayer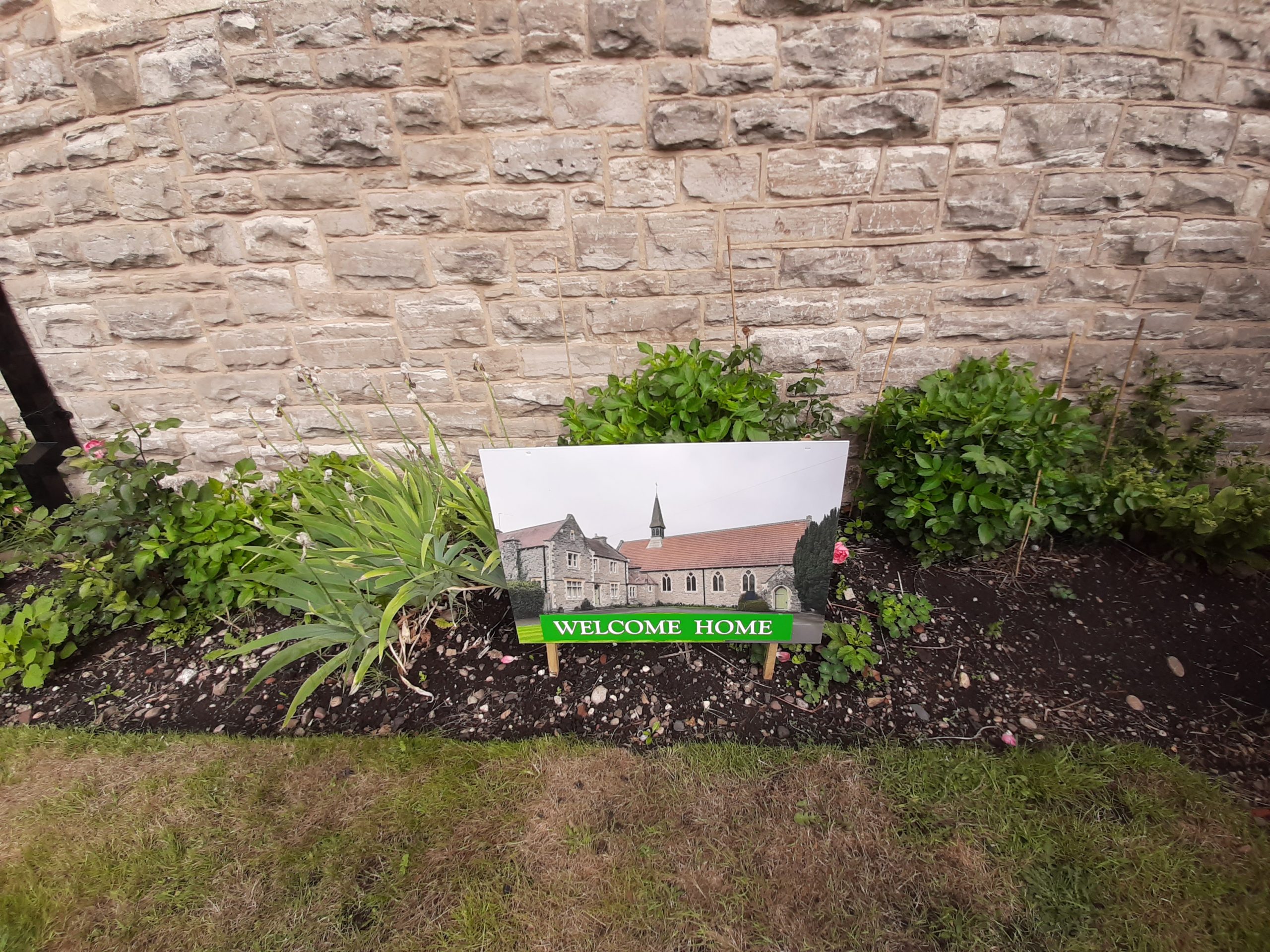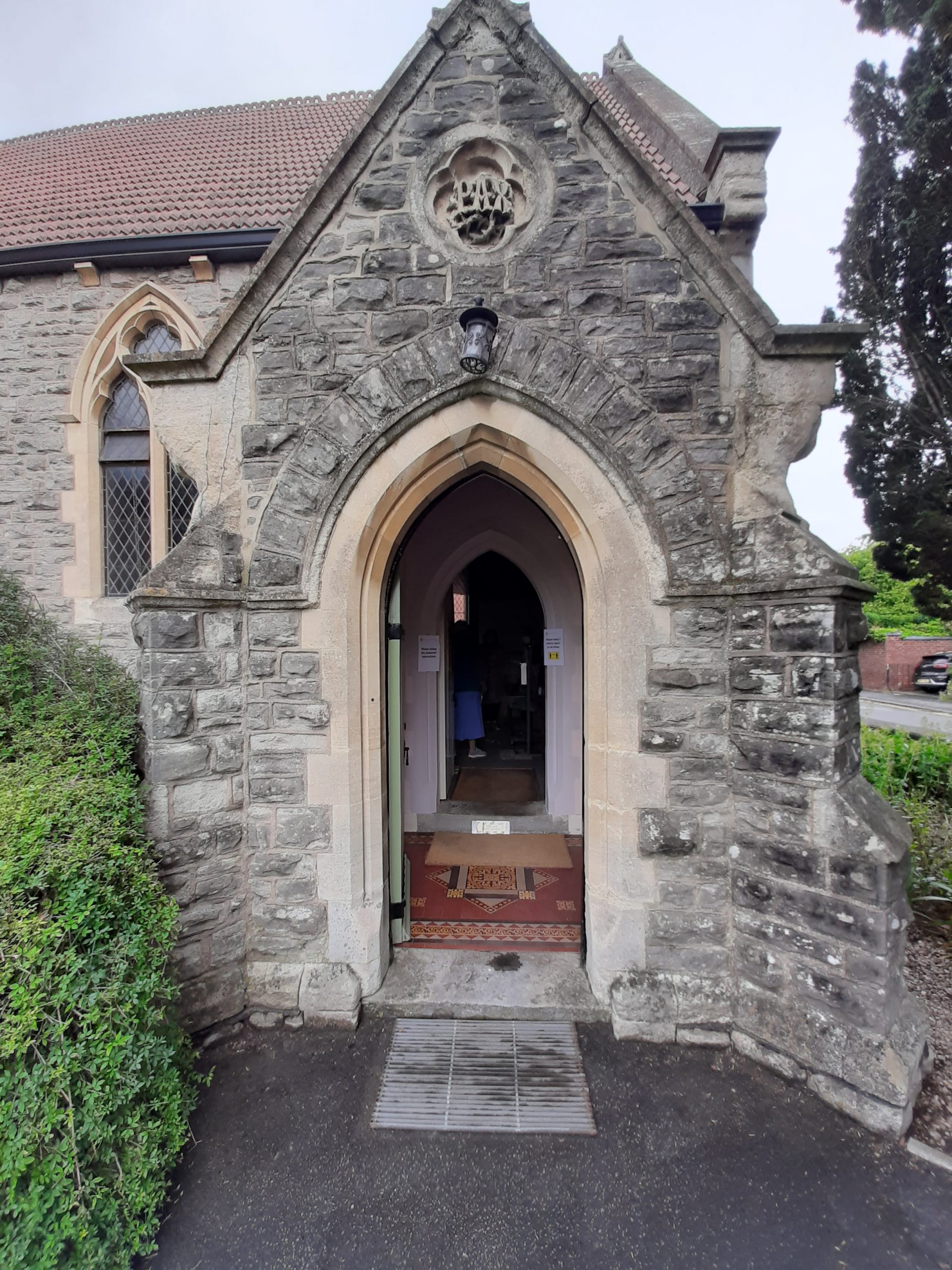 Following a thorough risk assessment carried out by both Fr Paul and a parishioner, and in line with government guidelines, we have decided to reopen the church for private prayer from the morning of Sunday 21 June 2020. The church will initially be open every Sunday from 10 am until 12 noon. Further days and times for church opening will be reviewed on an ongoing basis.
The church building has been prepared to facilitate these changes, including taping off benches and areas of the church that are not allowed to be accessed in order to both maintain social distancing and limit the number of surfaces visitors come into contact with.
In line with diocesan guidelines there are a few rules that must be adhered to:
1) If you have received medical advice to shield, or if you or anyone in your household has covid-19 symptoms you are required to remain at home. If you are showing cold or flu symptoms, you will not be allowed to enter the church.
2) You must follow the direction and advice of the marshals who are there for your safety and the safety of those around you.
3) All entering the church are recommended to use face coverings at all times to minimise the risk of contagion to all present.
4) On entering and leaving the church you are required to use the provided hand sanitiser. This has been set up to allow 70% hand gel to be dispensed by depressing the lever using your arm or elbow rather than by touching it with your hands.
5) Personal possessions should be kept to a minimum and should be taken away on leaving the church. Any handkerchiefs or tissues shall be taken off the premises.
6) Any item found during cleaning shall be disposed of and shall not be deposited in any lost property.
7) Statues are not to be touched, and areas that have been cordoned off should not be entered. The holy water stoup, baptismal font, confessional, sacristy, lady chapel, votive candles and toilets are all closed off.
8) While children are unlikely to become very ill, they are capable of both being infected by the virus and of spreading it. Parents or guardians bringing children into a church should not be discouraged from doing so, but it will be important for parents to manage their children appropriately, particularly ensuring they touch as few surfaces as possible for their own safety.
If anyone falls ill after worshipping at the church, you (or your representative) are requested to inform the parish of your circumstances (giving details, if possible, of the time and date of their visits to the church). The parish would then be responsible for posting on social media and in church a notice encouraging those who have been on the premises on those days to seek a test and not to attend the church. This would be done without disclosing any personal information.
In the event of someone falling ill whilst at church, normal first aid rules apply. Current government advice is here
If there is any doubt an ambulance will be called. Anyone assisting the sick person would need to wear PPE consisting of a face mask, gloves and an apron. Then the church would need to be closed, deep cleaned and the incident reported to the Health and Safety Executive in accordance with The Reporting of Injuries, Diseases and Dangerous Occurrences Regulations 2013 (RIDDOR) which requires reporting when:
· an unintended incident at work has led to someone's possible or actual exposure to coronavirus. This must be reported as a dangerous occurrence.
· a worker has been diagnosed as having COVID 19 and there is reasonable evidence that it was caused by exposure at work. This must be reported as a case of disease.
· a worker dies as a result of occupational exposure to coronavirus.
Above all though, we want you to return to church in a safe manner and look forwarding to welcoming you soon.
PLEASE DONATE TO SUPPORT THE PARISH
If you are able to support the parish financially in the coming weeks and months, there are a number of options by which you can do this...
The most efficient way of doing so is by setting up either a standing order or making ad-hoc payments from your bank account into the parish account.
If you are willing to do this, please send an e-mail to finance@catholicchurchalcester.org.uk and we will send you further details as to how to set this up.
Alternatively, you can either put a cash or cheque donation in a clearly marked envelope through the presbytery letterbox, or post donations (cheques only please) to the parish address found at the bottom of this page.
If you are an existing Gift-Aid Donor or wish to become a new Gift-Aid Donor please provide your Full Name, Address and Postcode on the envelope.
To Donate Online, please visit the diocese website, at https://www.birminghamdiocese.org.uk/support-our-work and select Alcester in the "Donating To" box on the second page of the pop-up form.
200 Club If you currently subscribe to the parish's 200 club or would like to, please see the attached letter from Chris and Kiernan Cunningham:
A People who Hope in Christ - A message from the Metropolitan Archbishops of the Catholic Church in England and Wales
Dear brothers and sisters in Christ,
The radiance of the risen Lord shines upon us. At a time when so many shadows are cast into our lives, and upon our world, the light of the resurrection shines forever to renew and restore our hope. In the words of our Holy Father, Pope Francis:
'In the midst of isolation when we are suffering from a lack of tenderness and chances to meet up, and we experience the loss of so many things, let us once again listen to the proclamation that saves us: he is risen and is living by our side.' (27 March 2020)
The impact of Covid-19, both nationally and internationally, has been immense. So much of what we take for granted has changed. Our health and physical interaction, our capacity to travel and gather, have all been affected. There is uncertainty in our future, especially with work and the country's economy. As we know, very sadly, large numbers of people have died because of the coronavirus, and others have been or remain seriously ill. Keyworkers, not least in the National Health Service and care sectors, are serving selflessly to sustain the life of our nation. Our hearts and prayers go out to everyone who is suffering because of Covid-19, and to all those battling to overcome its effects. May those who have died rest in peace and those who are bereaved find comfort.
When the Prime Minister announced the lockdown, this included places of worship and therefore Catholic churches. These measures were put in place to stem the general transmission of the virus. It is right that the Catholic community fulfils its role in contributing to the preservation of life and the common good of society. This must continue until the restrictions applied by the Government are lifted.
None of us would want to be in the situation in which we find ourselves. While the live-streaming of the Mass and other devotions is playing an important part in maintaining the life of faith, there is no substitute for Catholics being able to physically attend and participate in the celebration of the Mass and the other sacraments. Our faith is expressed powerfully and beautifully though 'seeing, touching, and tasting.' We know that every bishop and every priest recognises the pain of Catholics who, at present, cannot pray in church or receive the sacraments. This weighs heavily on our hearts. We are deeply moved by the Eucharistic yearning expressed by so many members of the faithful. We thank you sincerely for your love for the Lord Jesus, present in the sacraments and supremely so in the Holy Sacrifice of the Mass. The bishops and priests of every diocese are remembering you and your loved ones at Mass each day in our churches as we pray 'in hope of health and wellbeing.' We thank our priests for this faithfulness to their calling.
As the Government's restrictions are relaxed step by step, we look forward to opening our churches and resuming our liturgical, spiritual, catechetical and pastoral life step by step. This will also be of service to those beyond the Catholic Church who depend on our charitable activity and outreach through which much goodness is shared by so many volunteers from our communities.
None of us knows, as yet, how or when the lockdown will end. There is likely to be a phased return to travelling and gathering. As a church, we are now planning for this time and our discussions with the statutory public health agencies and Government representatives are ongoing. Together with Catholics across England and Wales we desire the opening of our churches and access to the sacraments. Until then, we are continuing to pray and prepare.
We want to acknowledge with gratitude the service of our fellow bishops and priests, our deacons and religious, our families and lay faithful, together with all our parish and school communities, for the wonderful ways the life of the faith is being nourished at this time, especially in the home. We also pay tribute to the Catholic organisations and networks that are working to support the vulnerable and needy.
On that first Easter day, the disciples were in lockdown and the doors were closed. In their isolation the Lord Jesus came among them and said 'Peace be with you.' May the peace of the risen Lord reign in our hearts and homes as we look forward to the day we can enter church again and gather around the altar to offer together the Sacrifice of Praise.
We unite in asking the intercession of Our Blessed Lady and assure you of our prayers and blessing
Yours devotedly in Christ,
✠ Cardinal Vincent Nichols, Archbishop of Westminster
✠ Malcolm McMahon OP, Archbishop of Liverpool
✠ Bernard Longley, Archbishop of Birmingham
✠ George Stack, Archbishop of Cardiff
✠ John Wilson, Archbishop of Southwark
Pastoral Letter of the most reverend Bernard Longley, Archbishop of Birmingham For the fourth Sunday of Easter 3 May 2020
Happy Easter... Sunday Masses will continue to be available during the Covid-19 lockdown period, they will be available on our YouTube channel every Sunday at 08:30 am.
Please go to our Services Page for further information.
Thought for today from Fr Paul Gunter, OSB - Holy Saturday - Year A, 11 April 2020

Thought for today from Fr Paul Gunter, OSB - Friday of Holy Week - Year A, 10 April 2020

Reflection for Good Friday (please click on the link below to open)
Tre Ore Reflection - The Seven Last Words of Jesus
Spiritual Conference at Our Lady & St Joseph Catholic Church in Alcester, Warwickshire, UK. Wednesday of Holy Week, 08 April 2020.
Spiritual Conference at Our Lady & St Joseph Catholic Church in Alcester, Warwickshire, UK. Tuesday of Holy Week, 07 April 2020.
Thought for today from Fr Paul Gunter, OSB - Monday of Holy Week - Year A, 6 April 2020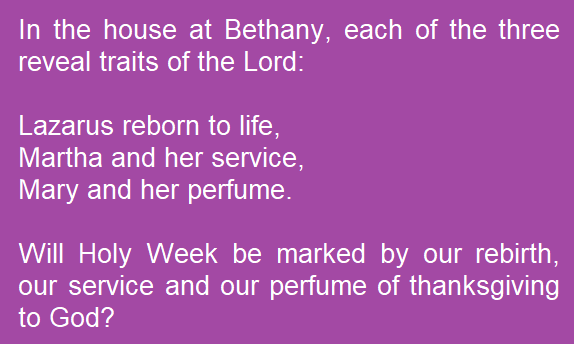 Spiritual Conference at Our Lady & St Joseph Catholic Church in Alcester, Warwickshire, UK. Monday of Holy Week, 06 April 2020.
Welcome to the Parish Of Our Lady & St Joseph, Alcester
Masses are being uploaded or live streamed on Sundays. Please visit our SERVICES page to view these, where a list of Holy Week services is also available.
Thought for today from Fr Paul Gunter, OSB - Palm Sunday - Year A, 5 April 2020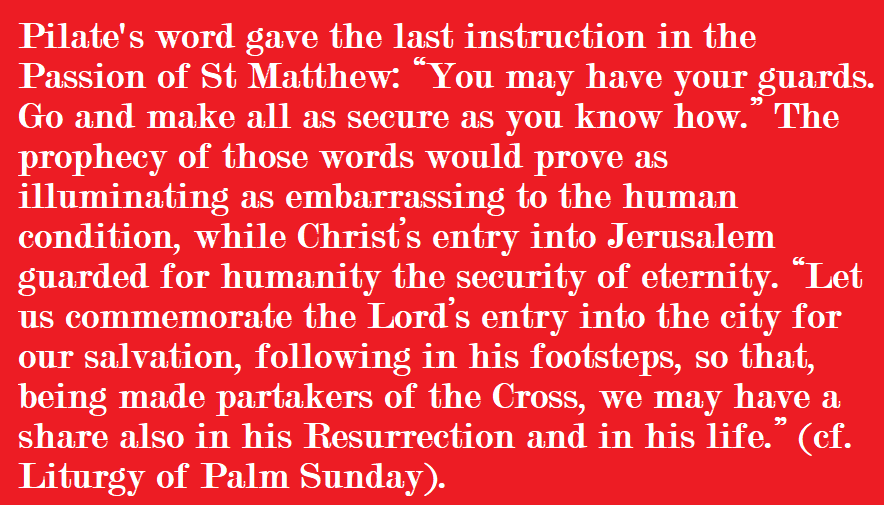 Covid-19 (Coronavirus)
While the general advice is not to panic, discretionary precautions are prudent. Following regular updates from the government, and from the Bishops' Conference, we can expect increased measures for our protection & for that of society at large. We can only take one day at a time and pray for protection.
Resources to help during this time can be found below;
Alcester Community Resilience Group on Facebook
Studley Isolation Support and Volunteer Group on Facebook
NHS Coventry and Warwickshire Covid-19 family wellbeing pack NHS South Warwickshire NHS Foundation Trust
A guide to living with worry and anxiety amidst global uncertainty Copyright © 2020 Psychology Tools Limited
A message from the Cardinal on 'Easter Duties', Confession and the Forgiveness of Sins
A message from Fr Paul Friday 20 March 2020
A message from the Cardinal Wednesday 18 March 2020
Letter from the Archbishop of Birmingham Wednesday 18 March 2020
Dear Fathers and Deacons
Dear Parishioners
I invite you to read this letter together with the two attached statements as they outline our present liturgical and pastoral practice in the light of the ongoing coronavirus pandemic. These cannot cover every possible situation so I would ask you to exercise prudent pastoral judgement in respect of these guidelines.
I ask all recipients to share this information as widely as possible. I also ask clergy to make copies of this email and accompanying statements available for those who do not have access to them electronically and to leave them at the back of their churches.
Each bishop has been asked to write to his own diocese and so I offer the following guidelines as a clarification of the national guidelines for the clergy and faithful of the Archdiocese of Birmingham.
The measures outlined may seem very drastic but they are a necessary and proportional temporary response to protecting the most vulnerable in our society.
---
O God, come to our aid;
O Lord, make haste to help us!
---
Care for Priests and Deacons
Those who are over 70, and those with significant underlying health issues, should take particular care at this time not to make themselves vulnerable to any risk. General contact with parishioners should be minimised so that the risk of transmission of the virus is significantly reduced.
Celebrations of Holy Mass
As of Friday 20th March, a major change is that the celebration of Mass will not be public in any setting. Can clergy please put a notice on their church door notifying people of this change, especially in time for this Sunday.
Priests will celebrate Mass privately each day. As they do so, the church will remain closed to the public – which includes all parishioners.
Mass intentions attached to these Masses will be honoured. As priests will only be required to celebrate one Mass each day, some Mass intentions will need to be postponed to a later date.
In line with the Bishops' Conference guidance, only priests may be present for the celebration of Mass. As even Deacons are not permitted to be present, I need to emphasise that nobody else may be present for the celebration of Mass.
The obligation for the faithful to attend Holy Mass on Sundays and Holydays of Obligation is removed until further notice.
Since all of the faithful will be asked to make a Spiritual Communion (rather than receiving Holy Communion) during this time, those confined to home who normally receive Holy Communion from Sunday Mass will also be asked to make a Spiritual Communion. This will mean they will not receive Holy Communion regularly as at present. Clergy may make visits to sick parishioners in accordance with the guidelines already given. Care should be taken to ensure social distancing of the most vulnerable is maintained, including the welfare of those who visit. I draw priests' attention to specific guidance already given on the anointing of the sick.
Live- streaming of Masses is advertised on the Diocesan website (www.birminghamdiocese.org.uk) and we expect the number of these live-streams to grow, including at St Chad's Cathedral in the near future. If clergy could inform the Communications team at Cathedral House if they can add to the facilities already listed, that would be appreciated.
At other times and wherever this is possible, churches should remain open for private prayer. This may include periods of Exposition of the Blessed Sacrament but the emphasis must be on private prayer and not gathering the people. I ask that there is no Benediction of the Blessed Sacrament since this constitutes a public service.
Baptisms, Sacrament of Reconciliation, First Reconciliation and First Holy Communion, Confirmation, Matrimony
Please follow the guidelines given in the Bishops' Conference Liturgical Advice document.
Funerals
Regrettably, while public Funeral Masses must also cease, it is recommended that on the day of a Funeral, a Mass without the faithful may be offered by the priest for the intentions of the deceased and the family. This will be of some consolation to the family in the absence of a public Funeral Mass. I recommend that a later Mass with the faithful be celebrated when restrictions are lifted.
We live in difficult and unprecedented times. I, together with my brother Archbishops of England and Wales, will be reviewing these guidelines regularly and taking into account best advice. I shall update you on any changes that are necessary. In all we face, we know that the Lord never abandons his people.
In conclusion, as a Catholic community, we must treasure the power of prayer during these days: prayer for the world and its needs; prayer for our country at this time of uncertainty and sickness; prayer for the families and communities to which we belong, not only in terms of health but also for the many concerns of livelihoods affected; prayer for ourselves.
---
Merciful God,
come to the help of your people.
Be our shelter in this time of peril
and strengthen the bonds of our community.
Bring healing to all who suffer the ravages of disease
and assist those whose skill and art can put an end to this affliction.
Through Christ our Lord. Amen.
---
Assuring you all of my prayers for you at this time and asking for your prayers for me and those who work with me for the good of the Archdiocese.
Yours devotedly in Christ
XBernard Longley
Archbishop of Birmingham
---