Our Bulletins will be uploaded here in the coming weeks.
Fr John Fallon R.I.P.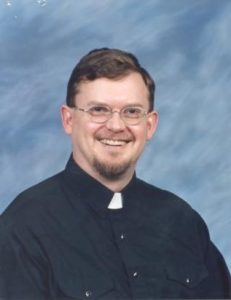 We are saddened by the death of Fr John Fallon who passed away suddenly on 22 February at his home in Alcester aged just 56. Our thoughts and prayers are with his family at this difficult time.
His body will be received into church on Tuesday 23 March followed by Holy Mass which will be open to parishioners.
His Funeral Mass will be celebrated by Bishop Evans and Fr Paul Gunter on Wednesday 24 March, which will be by invitiation only due to current restrictions. The funeral will be live-streamed on YouTube and can be found by following this link: https://www.youtube.com/user/JSPVfuneral or searching YouTube for "JSPVfuneral" the link should be live from 10 minutes before the funeral which starts at 11:30 am
Tribute to Father John Fallon, 1964 - 2021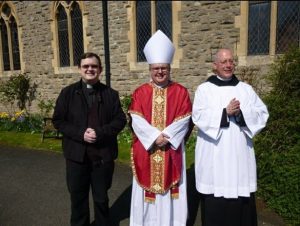 Fr John Fallon is pictured here with Bishop Robert Byrne and Fr Paul Gunter, on Palm Sunday 2017.
Lenten Fundraising for Africa
Ekica Fundraising (www.ekicafundraising.org) is a registered charity set up by ex-parishioners Sue and Tadge Sabatowski after they visited Tanzania in 2016. They support the growth of a pre and primary school which is developing all the time.
Sarah Ludkin is a parishioner and a trustee of the charity. She is undertaking a Lenten challenge 'Steps for Ekica' to complete 800,000 steps, the equivalent of approx. 400 miles, to raise money to build a block of three classrooms. Sarah would really appreciate your support, so please donate to keep her stepping out and help us build at https://www.givey.com/stepsforekica
Thank you so much for your support.
200 Club update
The 200 club administration is being transferred to new volunteers as per the following linked letter. Letter to members
200 Club November Winners
1st prize (£75) No. 114 Emily Holmes
2nd prize (£50) No. 5 Joan Abbott
3rd prize (£25) No. 54 Frank Maher
Many thanks for your continued support of the club.
YouTube address updated
As our YouTube channel has now reached 100 subscribers we have been able to customise our channel address to make it easier for people to find. It is now: https://youtube.com/c/catholicchurchalcester
Parish Catholic Primary School – Our Lady's Catholic Primary – St Faith's Road, Alcester – Admissions Consultation
Please find below a link to the Admissions Policy for 2022-2023 for Our Lady's Catholic Primary School. We are now entering a 6 week consultation process as part of the seven year cycle.
We invite you to make comments to the Chair of Governors at the following email address of williams.p2@welearn365.com or alternatively post your comments directly to the school, addressed to:
Chair of Governors, Our Lady's Catholic Primary, St Faith's Road, Alcester, Warwickshire. B49 6AG
Please note that the consultation process ends at midnight on 16th November 2020.
Church Stewards to facilitate public Mass
Please consider volunteering to support the parish as a Steward for Mass on Sunday mornings. The church needs 2 Stewards for each of the 8:30am and 10:30am Masses, their primary purpose is to ensure the safe social distancing of the congregation, and to ensure that we do not exceed the maximum safe capacity of the church. To volunteer please e-mail mike@catholicchurchalcester.org.uk, confirming your name(s), preferred Mass time, and any weeks that you cannot attend. Please also consent to your e-mail address being shared with other Stewards to enable rota swaps to be made as necessary. We are currently looking to set up the rota for 11 October to 3 January inclusive. Additional Stewards may be needed for Masses at Christmas.
200 Club September Winners
1st prize (£75) No. 91 Chris Ryde
2nd prize (£50) No. 83 Kiernan Cunningham
3rd prize (£25) No. 17 Meg Winters
Many thanks for your continued support of the club.
200 Club August Winners
1st prize (£75) No. 1 Natasha Burton
2nd prize (£50) No. 23 XXXXXXXXXXX
3rd prize (£25) No. 112 Dominic & Joan Hemming
Many thanks for your continued support of the club.
200 Club June Winners
1st prize (£75) No. 96 Robert Haden
2nd prize (£50) No. 110 Mary Redding
3rd prize (£25) No. 13 Mary Carney
Many thanks for your continued support of the club.
Plans to reopen church for the Celebration of Holy Mass
Next week 5 July, it is our intention to resume the public celebration of Holy Mass at 8.30 and 10.30am. Obviously, there are 'unknowns' but what can be envisaged will have been. It is case of trying it and adjusting accordingly. For the time being, the recorded Masses, which have been appreciated by many, will continue to be available, but from next Sunday, allowing for Mass to be offered at 8.30 and 10.30, this recording will be available from 10.30 each Sunday.
Since social-distancing will apply and in order to maximise the capacity of the church, we will be implementing the 1 metre + government guidance, we will be able to use every other bench in the church, whether they be filled by households or by limited numbers of individuals.
To facilitate good order and the correct use of the benches, it will be necessary for people to arrive for Mass at least 10 minutes early, observing appropriate social distancing in the grounds as well as in church.
Stewards will be responsible for directing where people are to be seated and to indicate when the church is full to capacity.
Face coverings are expected to be worn in these proximities at all times unless health conditions apply. Face coverings, while removed to receive Holy Communion, will need to be put back on immediately afterwards.
Volunteers, at their own discretion, are need to act in the technical sense as stewards and cleaners. Our ability to offer public Masses depends on our having volunteers. Without them, the church has to close. Please let Fr Paul know, using the parish email or answerphone, if you are available to help so that you can have Mass.
Update on Progress to Renovate and Extend the Parish Hall
Work is now well underway on the renovation and extension to our parish hall. Please continue to support our project through your generous donations. Many thanks.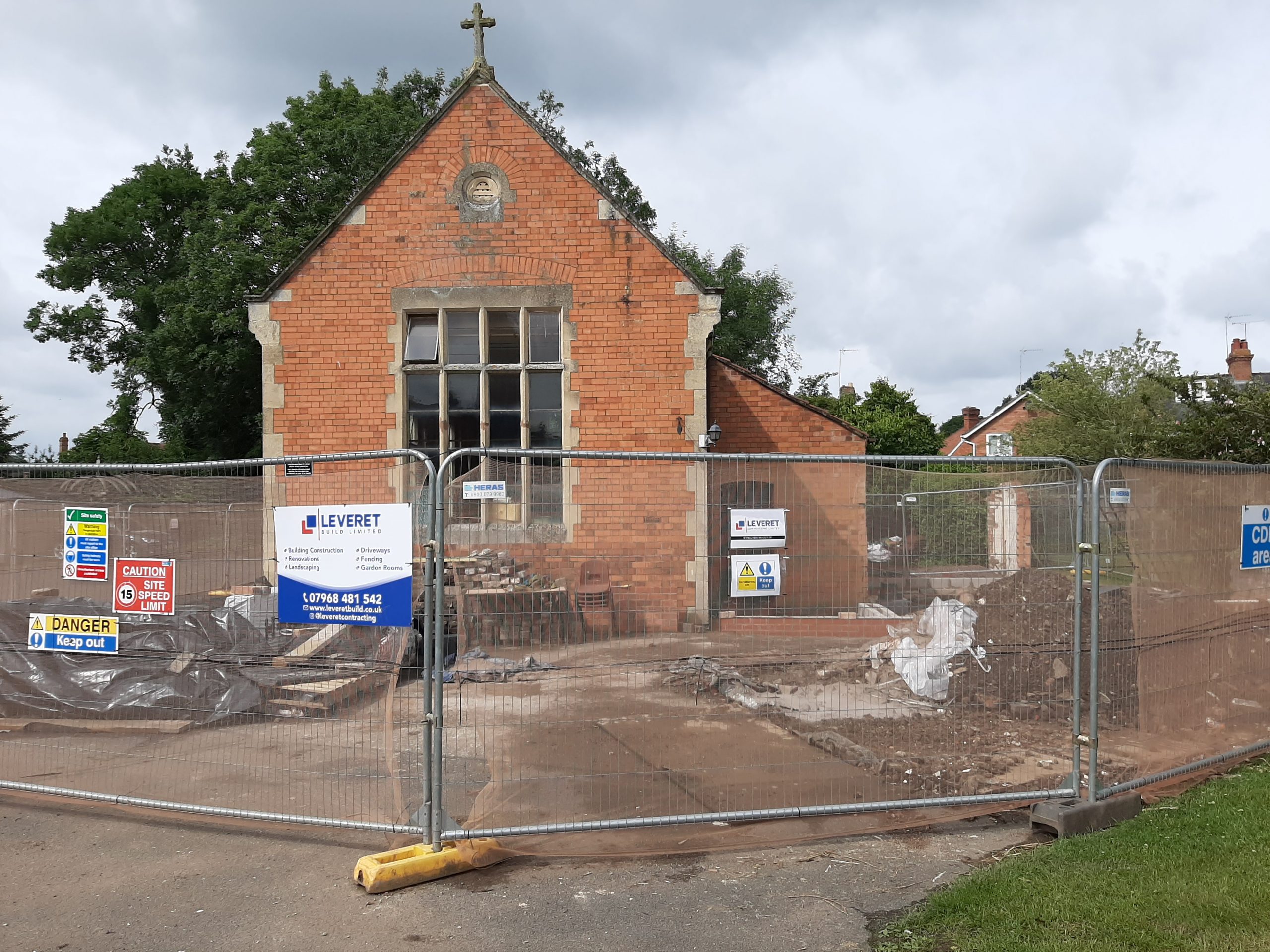 200 Club If you currently subscribe to the parish's 200 club or would like to, please see the attached letter from Chris and Kiernan Cunningham:
Covid-19 (Coronavirus)
While the general advice is not to panic, discretionary precautions are prudent. Following regular updates from the government, and from the Bishops' Conference, we can expect increased measures for our protection & for that of society at large. We can only take one day at a time and pray for protection.
Resources to help during this time can be found below;
Alcester Community Resilience Group on Facebook
Studley Isolation Support and Volunteer Group on Facebook
NHS Coventry and Warwickshire Covid-19 family wellbeing pack NHS South Warwickshire NHS Foundation Trust
A guide to living with worry and anxiety amidst global uncertainty Copyright © 2020 Psychology Tools Limited
Regular or Ad-Hoc Donations & Gift Aid
If you are able to support the parish financially in the coming weeks and months, there are a number of options by which you can do this…
The most efficient way of doing so is by setting up either a standing order or making ad-hoc payments from your bank account into the parish account.
If you are willing to do this, please send an e-mail to finance@catholicchurchalcester.org.uk and we will send you further details as to how to set this up.
Alternatively, you can either put a cash or cheque donation in a clearly marked envelope through the presbytery letterbox, or post donations (cheques only please) to the parish address found at the bottom of this page.
If you are an existing Gift-Aid Donor or wish to become a new Gift-Aid Donor please provide your Full Name, Address and Postcode on the envelope.
Words of Wisdom
"In all your trials, arm yourself with faith, confidence in God, and deep humility of heart. Fear nothing." St Paul of the Cross